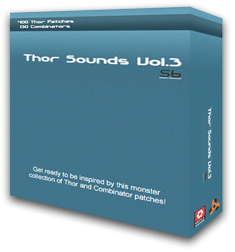 SB Thor Refills Sounds Vol.3
The latest update to the Thor Sounds ReFill. It brings you a wealth of sounds for Reason 4. Included are 406 Thor patches and 172 Combinators. Aimed at the modern dance producer with a diverse and up to date collection of sounds and sequences.
Thor Sounds Vol.3 Contains a staggering 172 Combinators and 406 Thor patches! A varied collection of sounds suited for modern dance styles
(House, Electro, Techno, Trance, DnB, HipHop, etc, etc).
[Re-Up]

Combinator GrooveBox Patches

One cool feature are the Combinator GrooveBox patches. They contain multiple sequences (channels) which together form a complete loop. They contain drums, bass and a synth/FX sequence which pitch follows the key you hold on your controller keyboard. So you can change the key of the performances on the fly. The Combinator controls have been programmed to quickly mute channels and change their most important setting. Extremely useful in a live situation. The more advanced users can open up the Combinator and easily edit the devices inside for personal customisation.

In the GrooveBox patch above you can control the kick snap (pitch modulation amount) with rotary 1 while button 1 is used to mute the kick channel. With rotary 2 you can control the filter cutoff of the bass (envelope settings vary per patch) while again being able to mute the bass channel using button 2. Button and Rotary 3 control the hihat channel and button and rotary 4 control the sound effect channel. This enable's you to have decent control (we need more rotary's and knobs on the Combinator!) over the performances.


406 Thor Patches
The 406 Thor patches are the backbone of the library. Going from deep growling basses to rich pads and everything in between. A lot of sequenced patches (instrumental & percussive) round of this collection. Most of the patches have the rotary's and buttons assigned to the most logical parameters of the sound.
172 Combinator patches using multiple instances of Thor and patched up with Reason's sound processors. You'll find layered basses, soaring leads, moving textures and much more. If you'r into big sounds this will be your section of preference! Every Combinator patch has been fully programmed. The knobs and buttons are assigned to the most important parameters of the sound so that you can quickly alter the sound to suit your needs.

Folder Structure

For easy navigation thru this huge sound collection the patches are categorized neatly in a logical folder structure with folders for each sound type (bass, leads, pads&strings etc, etc). This makes finding the sounds you need fast and intuitive.

Have Fun!
Download (22,4 MB)